Today's lesson is the text book, 'Touchstone3' unit2 'Hopes and dreams?'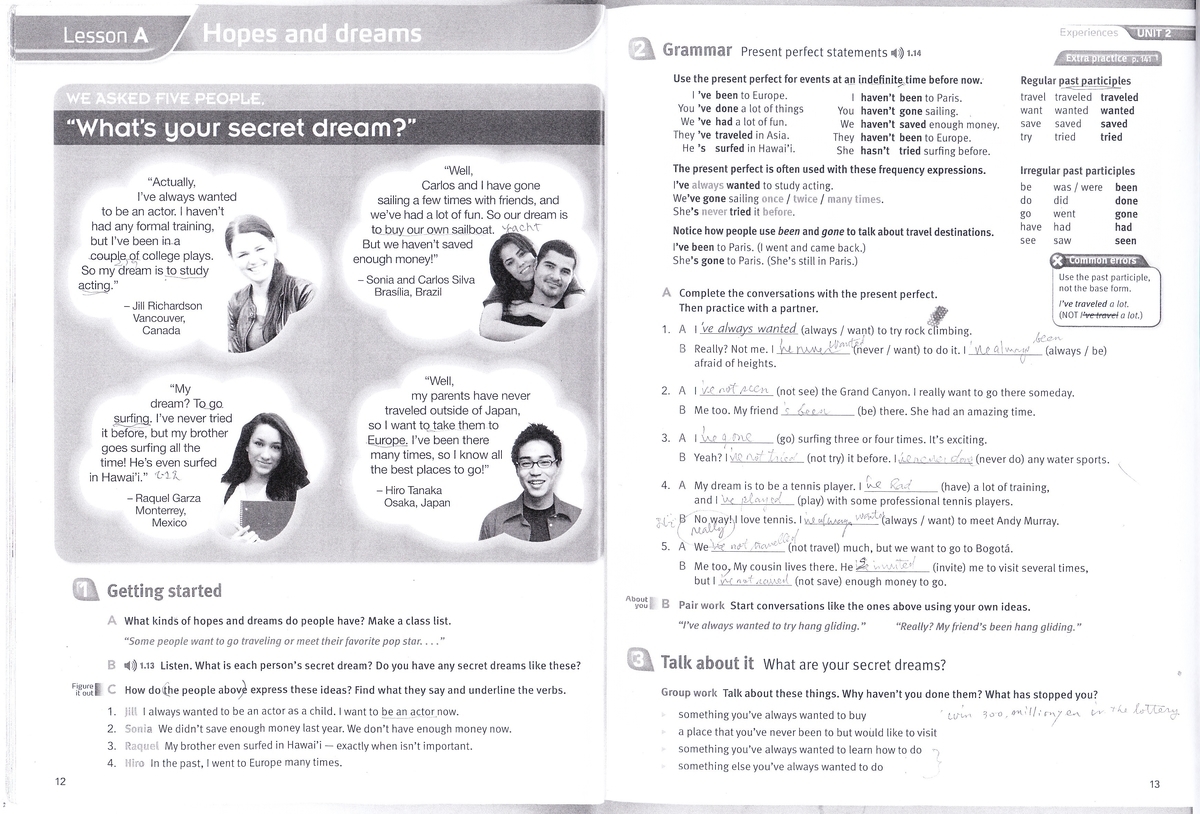 1.What are your secret dreams?
Why haven't you done them? What has stopped you?
What's anything you've always wanted to buy?
I've lost the lottery before.
I wish I could win it.
I 've always wanted to buy the lottery I can win.
I 've been unlucky because good fortune has escaped.
2.Here is a talk from RadioEikaiwa.
Topic is comparison, the superlative degree.
First story Deana and Masaya are talking about a great movie.
a How was your weekend, Masaya?
b It was OK. I watched a great movie on my computer on Saturday.
a Nice, which one?
b Dancing fools. I don't watch musicals, but it's the most moving film I've ever seen.
a Really? Isn't that the one about tap dancers?
b Right, it won some kind of award last year.
I missed it in the theaters.
a I want to watch it too.
b Yeah, I think you would like it too.
key sentence it's most moving film I've ever seen.
the demain of the superlative degree.
that's films I've ever seen..
This is the most fresh Sashimi Ive evr tasted.
He is the highest-paid actor in the world.
Which is the most expensive of these three bottles of wine?
Second story Raj and Yayoi are talking about Raj's software package.
a Raj, thank you so much for all you've done for our company.
b Yayoi, thank you foy all your hospitality and help. It' was great working with everybody here.
a And I only wanted to say that your software package is amazing. This software is by far the best office software I've ever used.
b Thank you. I was happy to design it. Please come to Mumbai someday.
a I would love to, Raj.
key sentence this software is by far the best office software I've ever used.
specified expression is by far.
This is by far the most luxurious resorts I've stayed at.
They go only to the very best restaurants.
Is it true that Luxor Temple is the second oldest temple in the world.
Third story Book clerk and customer are talking about Professor Peacock.
a Excuse me, have you read this by any chance?
b Oh, that's Peacock's latest. Yes, but I can't recommend it.
a Really? Why not? It got an award.
b Peacock is overrated. At the best he is an entertainig writer, and the worst he is just a dreamer.
a I appreciate your opinion. Acctually I met him once many years ago.
b Well, his workplace is not far from here.
a Realy? I think I'll pay him a visit. Thank you for the information.p
key sentence Peacock is overrated. at best he is an entertaining writer and at worst he is just a dreamer.
the superlative degree has phrase.
I call my parents at least three times a week.
Even the best golfers miss easy putts once a while.
At best you'll just get warning, and at worst you'll be fired.
Last story is Thomas and his home mother are talking about his bike's trouble.
a Hello? Thomas?.
b Yuko? I need your help!
a What's happened?
b I got a flat tire while I was riding my bike. I'm far away from any town.
a OK, keep calm. I'll get there as fast as I can.
You're not hurt, are you?
b No, fI'm fine. It's raining, though. This has never happened to me before.
a OK, just wait there. Ill get my car. Please send me your exact location. I should be able to find you.
b Yhank you!
key sentence OK, keep calm. I'll get there as fast as I can.
the prase with as.
I tried as hard as I could.
Don't worry. Here you're as safe as can be.
The deal is asgood Asdone.
Consider it done.