Today's lesson is the text book, 'Touchstone2' unit12 'Looking ahead','what's next','jobs'.
1.practice
(1)Looking ahead
willとgoing to
<today's tips>
If you want to say fact, prediction, use 'will'.
If you want to say decision, planning, use 'going to'.
(2)jobs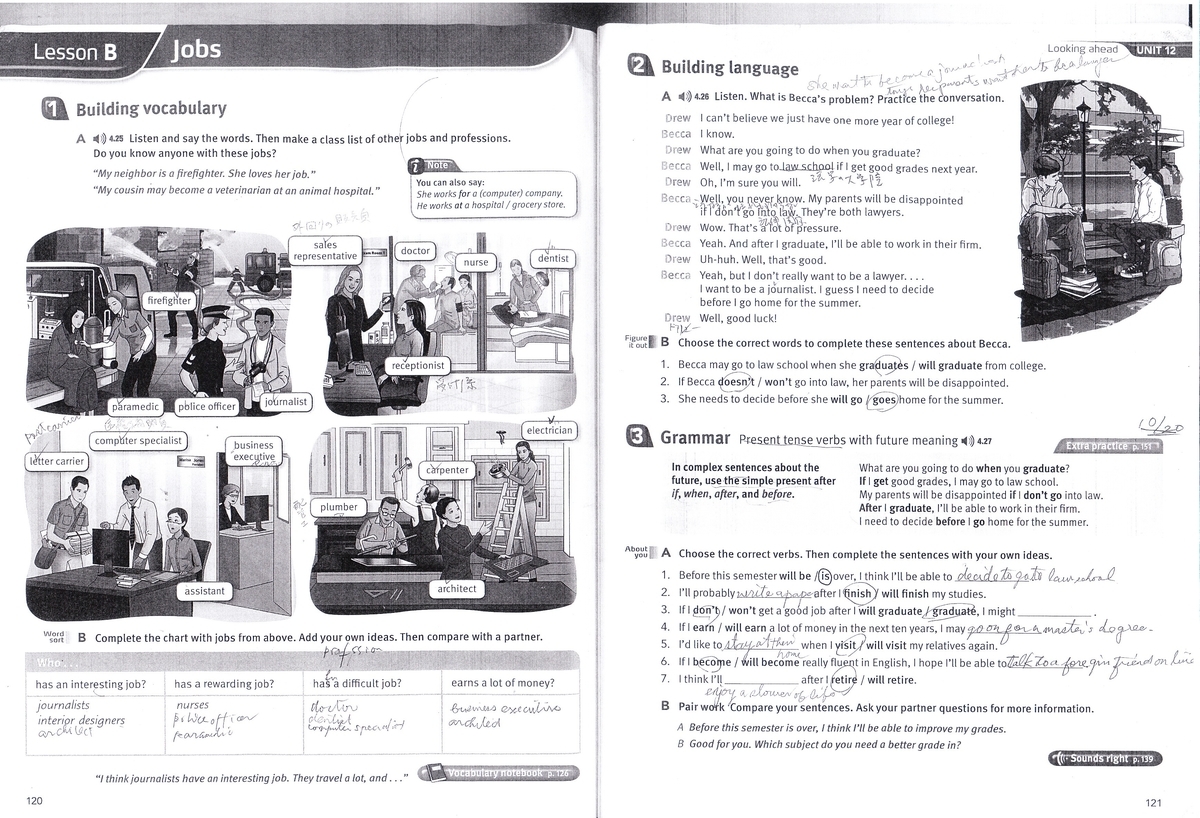 <today's tip>
present tense verbs with future meaning
2.Here is a talk from ラジオ英会話.
Topic is auxiliary verb. Like may(guess), might(much more polite), may(permit), must(order).
First story is a couple is talking about daughter's Halloween costume.
a Hi, Rico. I'm home.
b Hi, Paul. Did you buy the princess costume for Hannah's Halloween event?
a Yes, I got a pink one.
b But she wants a purple costume, not a pink one. She may get disappointed.
a Sorry, but they only had pink ones left.
b Well, I guess I'll have to make another costume for her myself this year.
a Do you have time to do that?
b Not really, but you know how picky Hannah is about everything.
key sentence is he may get disappointed.
I may be a little late.
May I leave my bag here until check-in time, please?
Though I did my best as your instructions, you may not be safisfied with finished product.
Secondcstory is two shogi club members are talking about another member.
a Sota finally texted me. He said he's not feeling well these days.
b What's wrong with him?
a I'm not sure. He didn't say exactly. He may or may not to be ill.
b What do you mean? Don't you know?
a I'm not sure. He's acting very strangely. He might be covering something up.
b What would he be covering up?
a Listen. Masami. If you want be with Sota, that's fine with me.
b What are you saying, Tom?
key sentence he may or may not be ill.
The students may or may not be find my my jokes funny.
Warning. Some viers may find the following images disturbing.
Frank may not be the best quorified candinate, but he is certainly the most charismatic.
Third story is two students are talking about the English test.
a Carlcos, I 'm nervous about the English test tomorrow. We have to write an essay, right?
b Yes. Don't worry. The teacher said 'You may use a dictionary during the test.'
a That's good. I'm not so confident about my spelling sometimes.
b Me neither, English isn't like Spanish, my native Language.
a Oh, of course. You are from Argentina, so your mother tongue is Spanish.
b Yes, although, our Spanish is a little different from that of other Spanish-speaking countries.
key sentence is You may use dictionary during the test.
You may use the hotel pool free of charge.
No, you may not stay up until midnight. You have school tomorrow.
May I take this opportunity to thank everyone for their support?
Last story is two students are talking about student's loan.
a Sejun, did you fill out the application for your student loan?
b Yes, I wrote it in kanji. Here, can you take a look?
a Oh, there's one problem.
b Problem?
a You must use a pen when you fill out this form.
b A pencil is no good?
a In Japan, black ink is required for official forms.
b I see. I'll have to get another form then.
a You can just download the form from tbe net.
b That's good.
Key sentence is you must use a pen when you fill out official forms.
You must wear a protective helmetAt all times.
You must try the new Thai restaurant. It's amazing.
If you want to improve your English, you mustn't be afraid of making mistakes.